Road to Warsaw
2019 has been very rich in my travels to conferences as a speaker. I'm so glad that I have visited different cities of Russia. But at the end of 2019 I managed to visit abroad too - I went to Warsaw on warrad.devfest.pl.
But my trip to Warsaw did not begin with an airplane, but with a visa. The last time I got Schengen visa was more than 5 years ago. In this regard, I could only count on a single-entry visa for the dates of the trip. This time it was more difficult to collect documents for a visa than before, because now I am entrepreneur and there are some features in connection with this. I submitted the documents on November 12, and the visa appeared in my hands only on November 27. Given that devfest itself was scheduled for December 6th, it was pretty tense to obtain a visa before buying the tickets themselves.
To increase my chances of getting into the list of speakers, I immediately submitted 4 topics that I could talk about. As a result, the program committee dwelled on my report on the transition from the Rest API to GraphQL. This was my first experience of a giving a speech in English.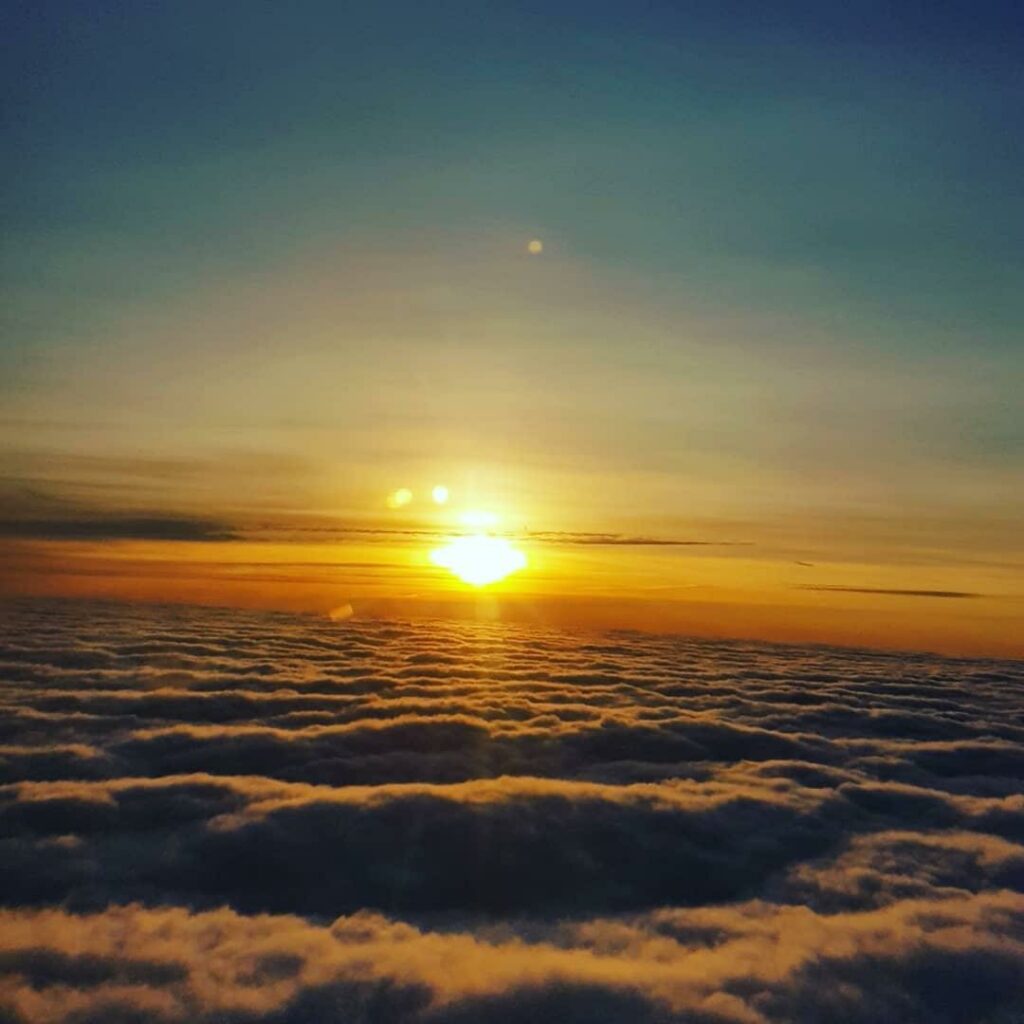 This time I flew out of Sheremetyevo at 8 in the morning. Arrived at Chopin airport on the same at 8 in the morning. When I arrived at the hotel, I almost immediately went for a walk. I have already written that I really like public transport - I always try to experience the most in every new place. Warsaw was no exception. The first thing that caught my eye was that by a regular pass you can get from the airport to anywhere in the city.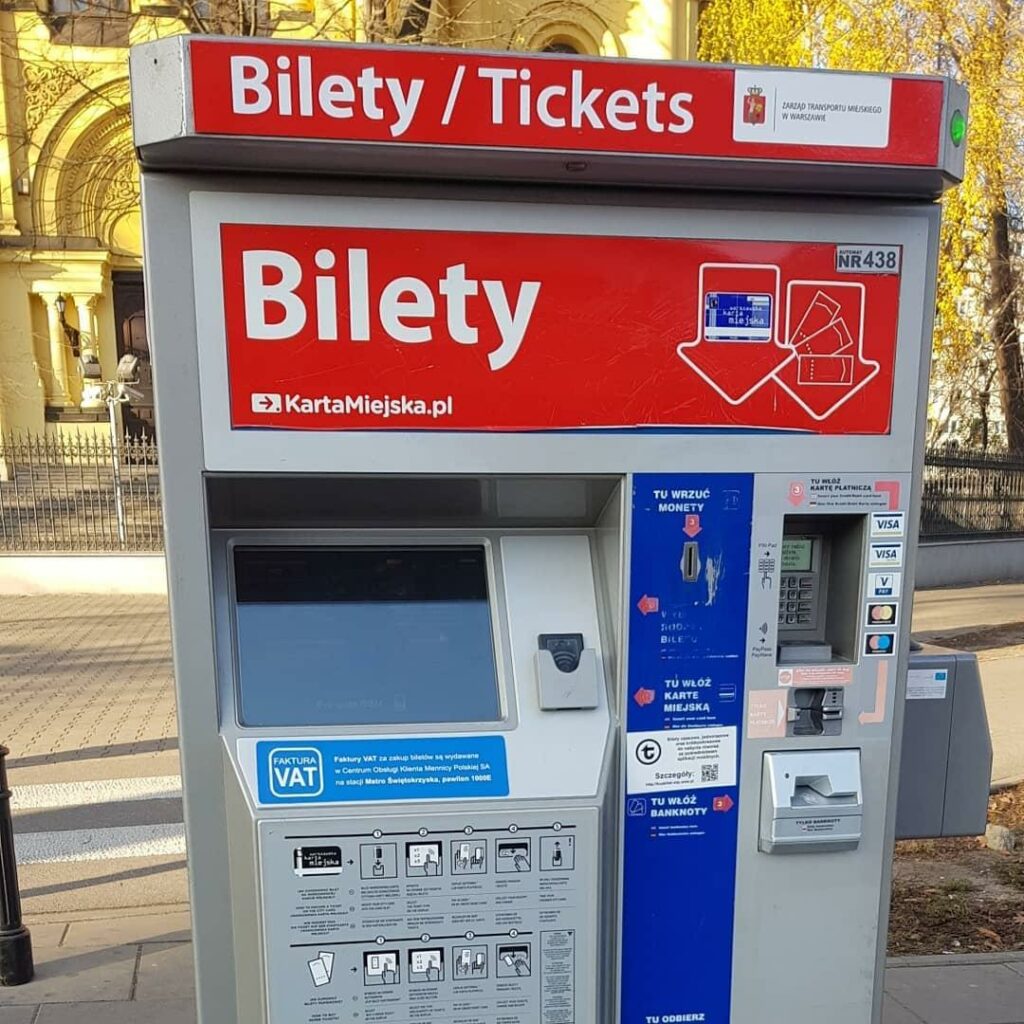 The pass for an unlimited number of trips costs adequate money - 24 zlotys (380 rubles) for the whole weekend. Aeroexpress in Sheremetyevo for one person costs 500 rubles, and here 380 and two days of unlimited trips. Having made about more than 15 trips on different types of transport and to different parts of the city on the first day, I realized for myself that Warsaw's public transport is very cool!
Preparty and the beginning of the festival
In the evening, the organizers, traditionally for conferences, made a pre-party and I plunged into the world of English. I am not an expert at accents and other things, but it was interesting to watch how Turks, Spaniards, Poles and others speak English. But everybody understood everybody and we could communicate in an excellent and interesting way. I also met with the developer Evgenia from Latvia - at the end of our conversation in English it turned out that she knew Russian too 🙂
The next day I woke up, had breakfast and went already to DevFest itself in Google Campus. In general, this campus from Google is quite an interesting place. As I was told, the campus can be used as free coworking - just register and you can come there to work and use WiFi for free!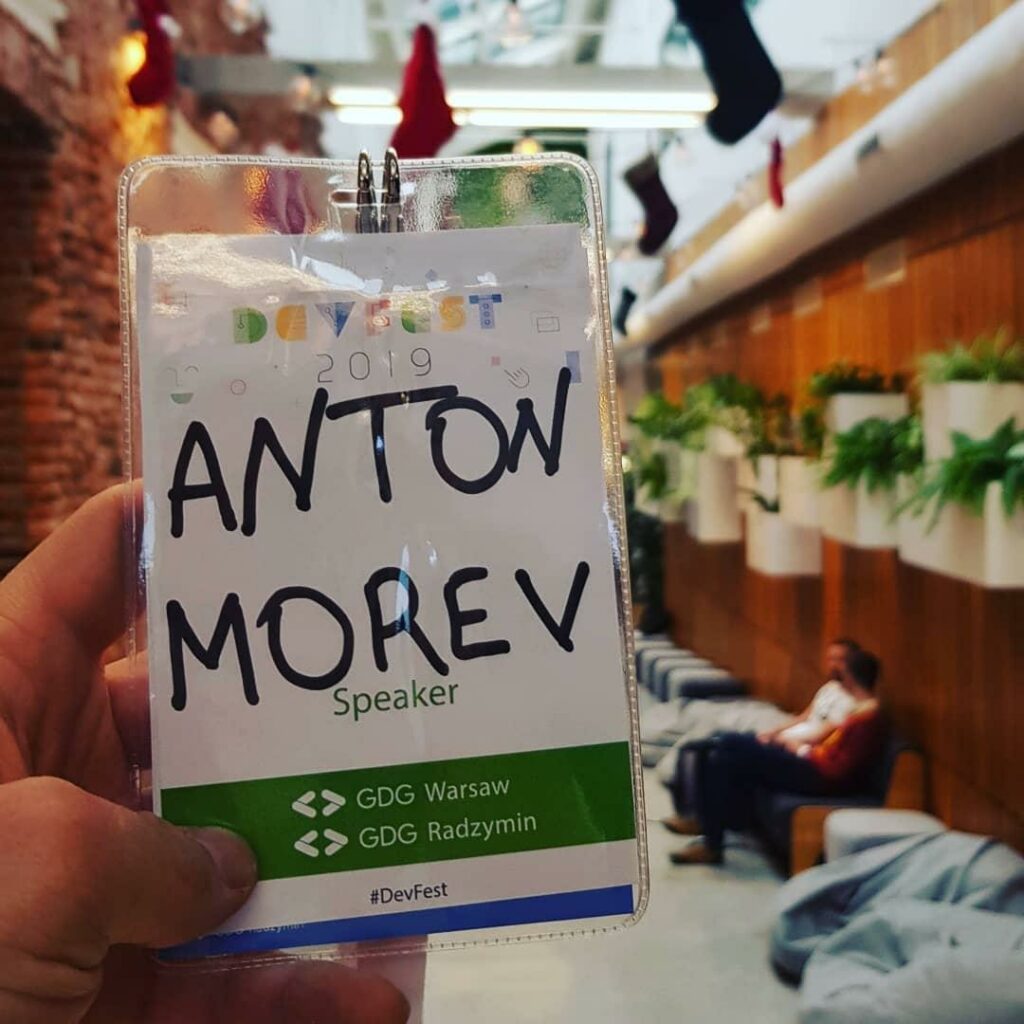 But back to the festival - the first thing I did was that I went to listen to the report of my new friend Zhenya - she talked about the state-machine in the React using the example of a file loader. Unfortunately, I did not come to the very beginning and did not manage to catch the essence of the report, but the things that I heard were interesting. About an hour after her presentation, the time came for my speech.
The first presentation in English
Despite the fact that I had already talked about GraphQL several times and, especially, the week before I talked about it in Ufa, it was extremely unusual, in the beginning, to speak in English. But then, after about 10 minutes of speaking, the language barrier flew away and I began to speak calmly as if I were speaking in Russian. Several times there was a situation when I could not find a translation of the word, but I was not lost and simply explained with gestures and tried to describe the word. There were no big problems.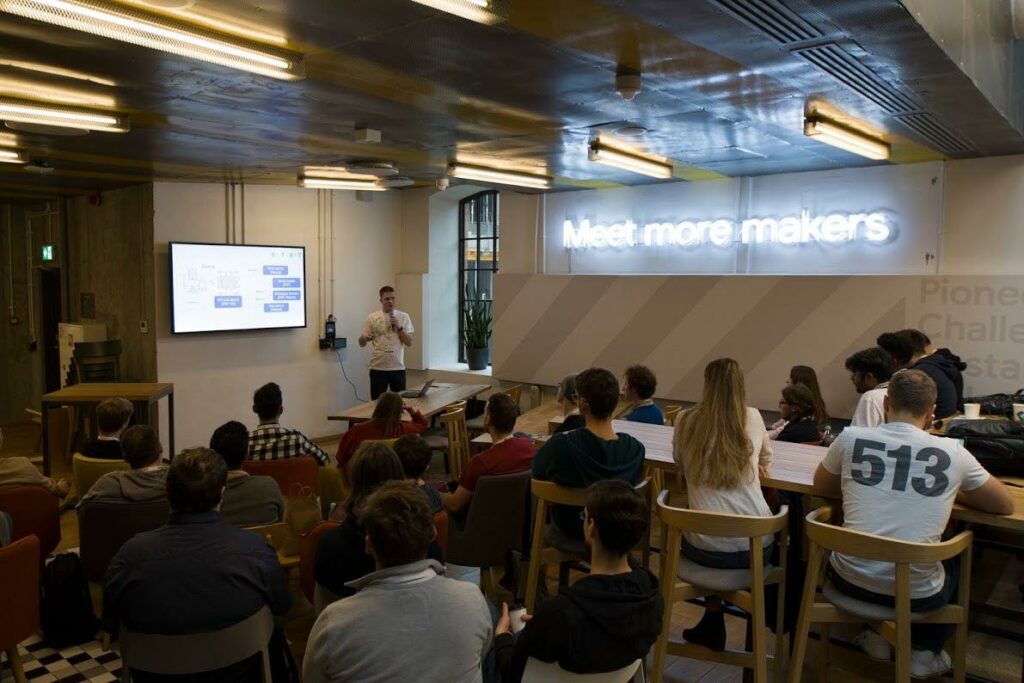 After the speech, several people came up to me and we talked about the translation of real projects in GraphQL - also in English and it was hard, because the question was asked in a fluent format and using professional slang... And I had to answer the question 🙂 Somehow I coped with this task and, almost immediately, went for another walk with a local in Warsaw.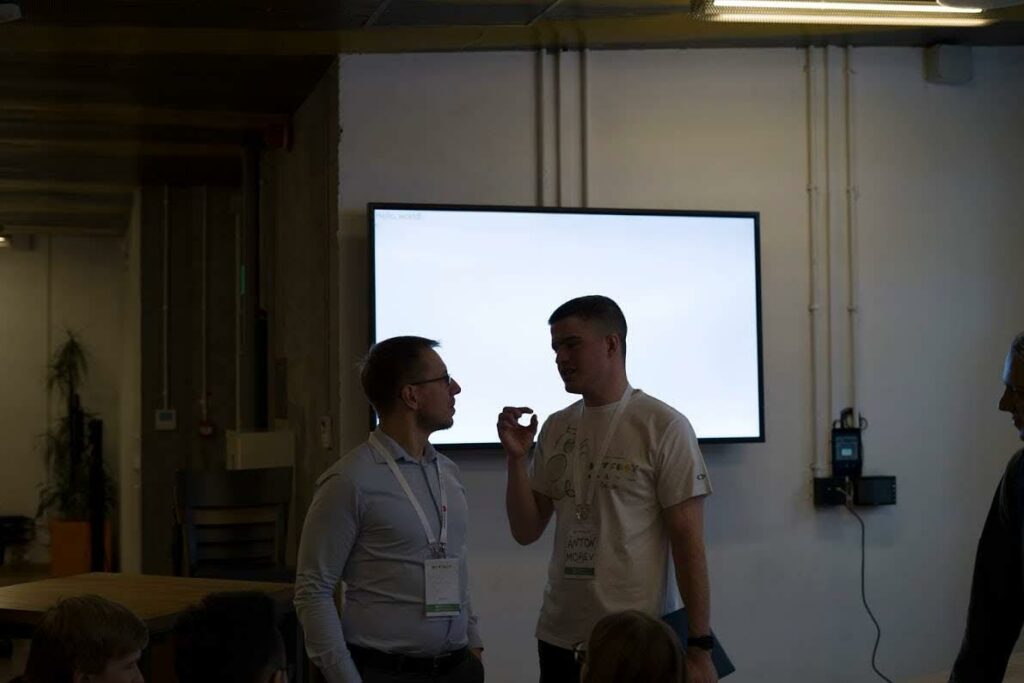 A walk with a local
We've had a good walk and even took a photo. People, as usual, were very interesting. Our company consisted of Zhenya from Latvia, Lesha and his girlfriend Sasha from Ukraine. Alex - php developer, moved with a girl to Warsaw for permanent residence. It was very interesting to hear about the city from the developer - plain information, plain facts without unnecessary things. Provided that I really do not like standard excursions, I really liked this excursion in Warsaw for what I'm very grateful.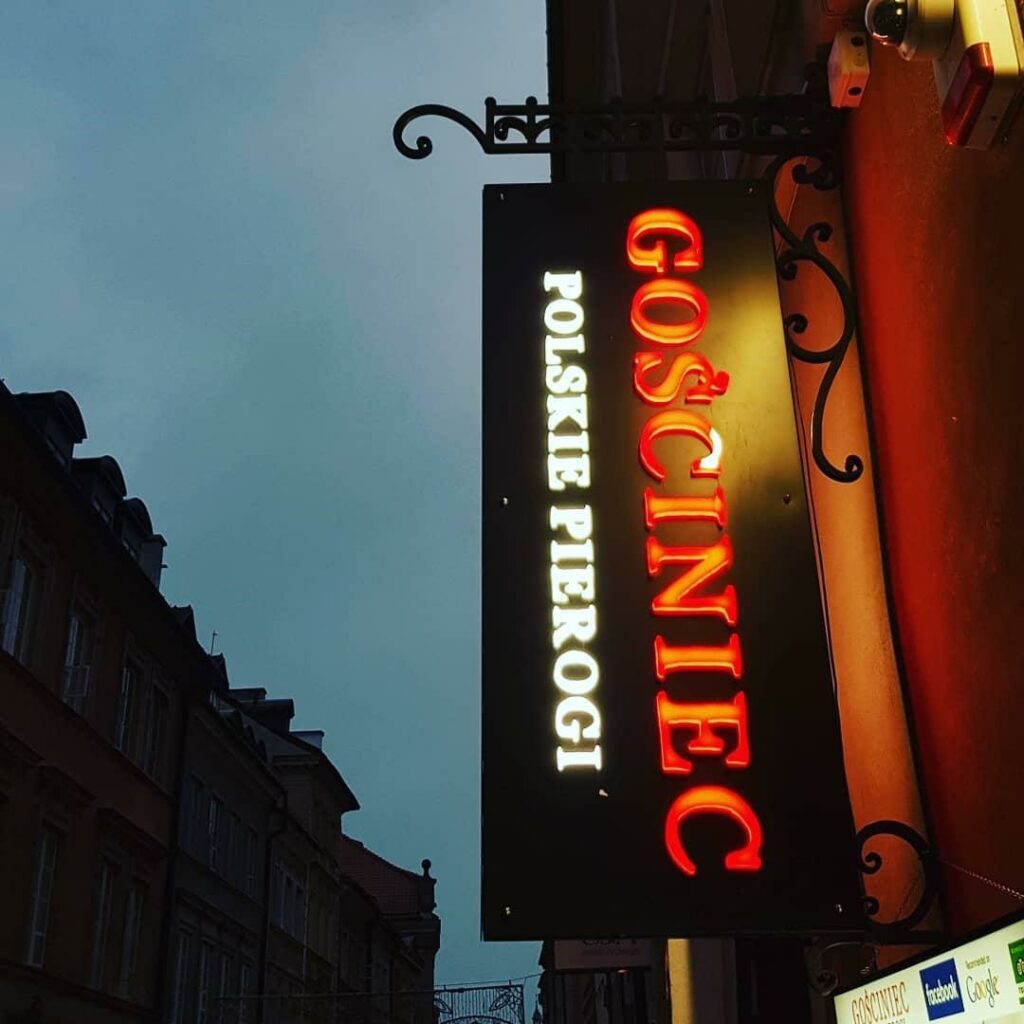 The time for afterparty has come. Nothing special here. It was interesting to talk with the organizers and listen about the painful moments in the organization of such devfests. The next morning, at the hotel, I talked with the head of GDG in Spain and we found an opportunity for interesting joint cooperation, which I was very happy about:)
Day 2
On the second day the campus was almost empty - it was a day of workshops. I partially listened a Firebase workshop and fully participated in a workshop on liberating structures - it turned out to be some unexpected discovery for me.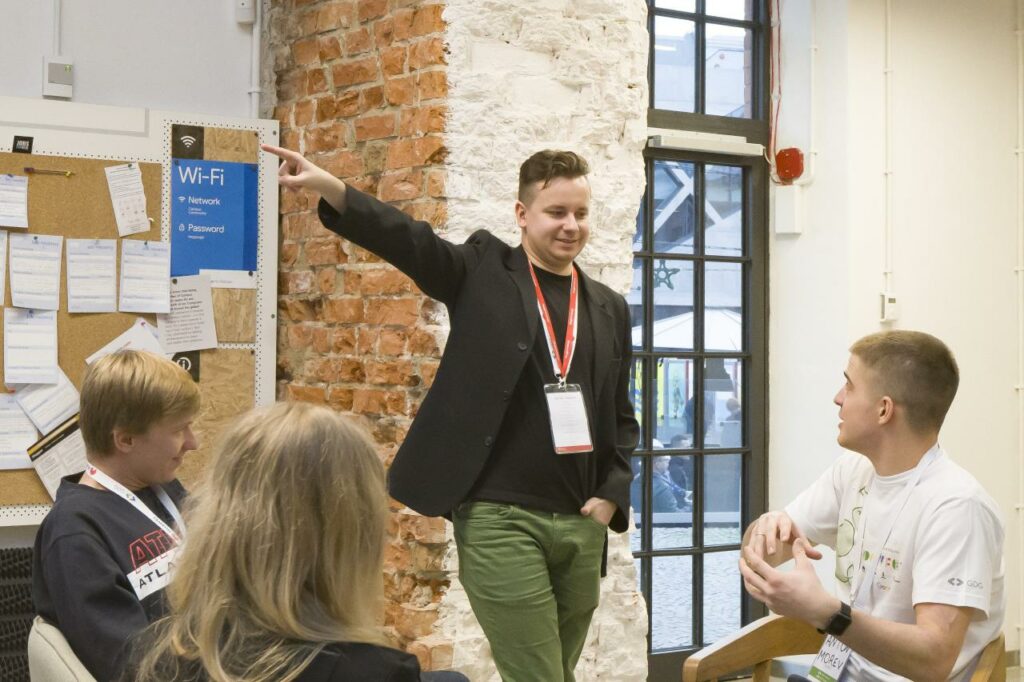 The point was that we needed to spread the information from the Firebase workshop among all participants as efficiently as possible so that the maximum number of people understood the maximum information. This is an extremely useful practice when you need to reinforce any knowledge from the report you have listened to.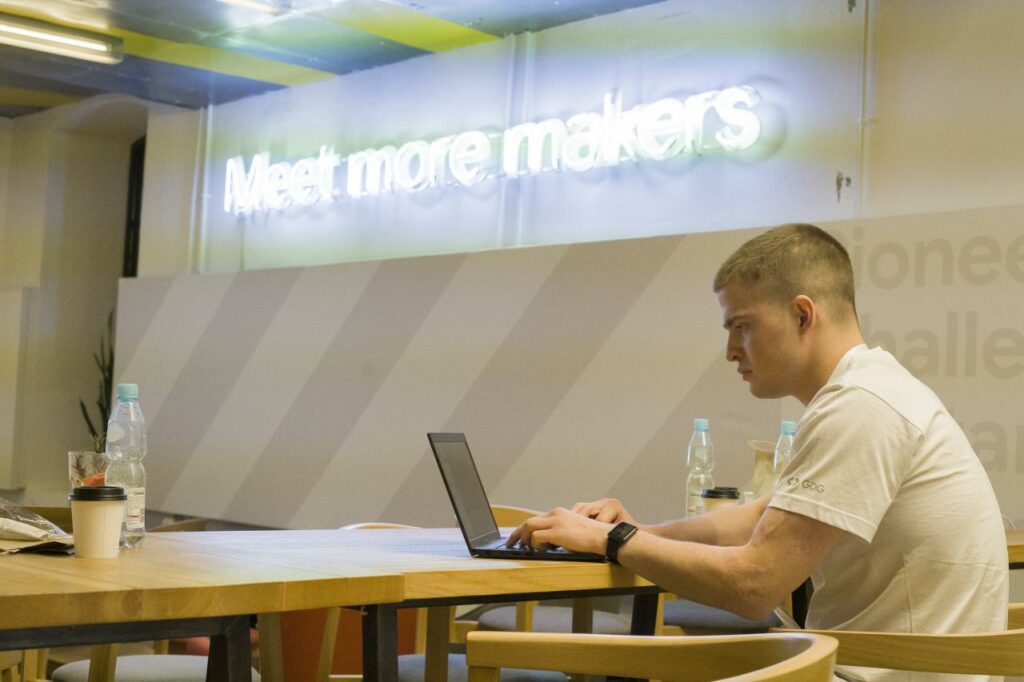 Then, different people came up to me who had listened to my report the day before and I talked with interesting people - a man from Nigeria, one time, moved to Belarus, have studied there and moved to live in Poland . And I remembered that I've been living on the same street in my city for more than 20 years 🙂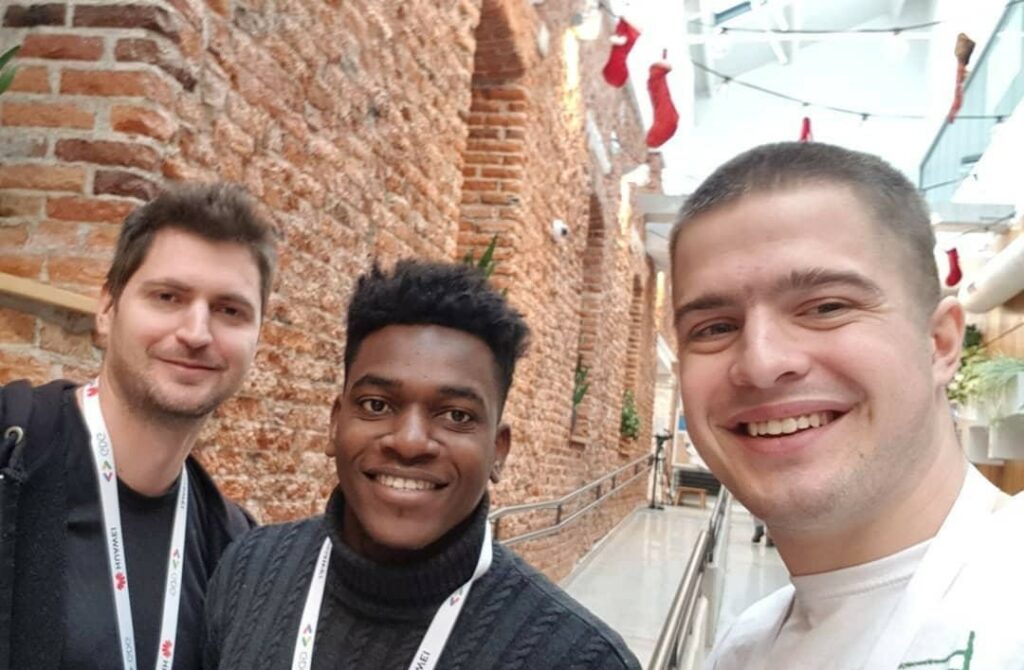 I also met a large number of people from Ukraine. It was great to talk to them personally. Those are mainly students. And each time I came across a funny situation: when communication in English begins, we talk about different things for a long time, and then we ask each other where a one lives and, oh miracle, we can speak Russian 🙂 But there was no any language barrier on the third day there, everyone speaks English.
A way home
Having packed all the things in my backpack, I left Google Campus and went to the Vskhodnya station. I got on the train and came right to the airport using the same pass which I used all the weekend. Once again, I was glad about the convenience of public transport in Warsaw, got on a plane and flew to Moscow.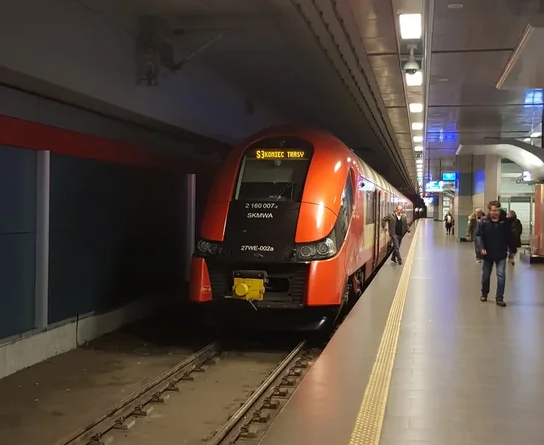 When I arrived in Moscow, I faced with the complexity of public transport. I left the car in the Degunino area (15 minutes by car from the airport) and planned to go to my car by car sharing. But! Not a single carsharing operator had a single car in Sheremetyevo. Unfortunately, railway transport from Sheremetyevo is only an aeroexpress train for unlimited weekend trips in Warsaw, and a taxi to the car would cost me from 500 rubles.
In the end, trying to catch a car-sharing car, I got to the river station by bus, and there I got into the Delimobil. Nothing interesting happened next. I arrived home, went to bed and mentally prepared for the work week.
Pleasant ending of the first year of conferences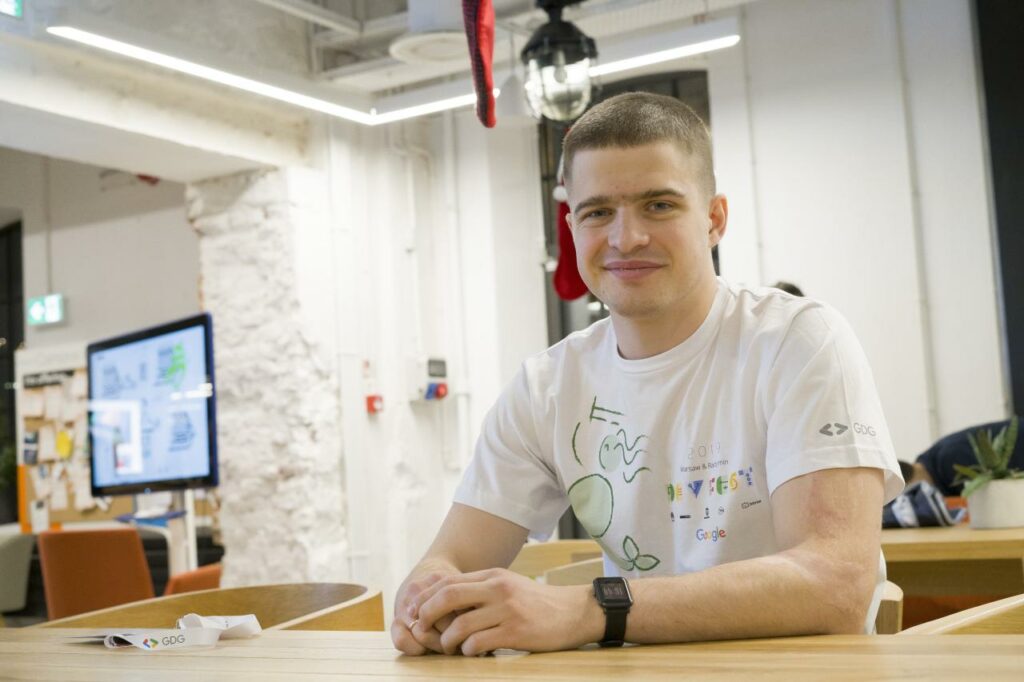 I am really pleased with how GDG Warsaw went and how I spent my time! And in general, I am very pleased with how my first year as a speaker has gone 🙂 2020 has already begun and it also promises to be eventful 🙂
What I liked:
The Warsaw itself;
The public transport in Warsaw;
Nice organizers;
Interesting Google Campus;
What I didn't really like:
The quality of reports. I listened to many reports and the quality of reports itself, unfortunately, was not really high. There was a lot of reports about Flutter and Firebase because this is Google technology;
There was no food on afterparty. There was a lot of alcohol and only one non-alcoholic lemonade;
There was no video broadcast. A minute of advertising our broadcast services is amorev.ru/video-stream-announce.
It was a great pleasure for me to have such an experience - to give a speech in English. In 2020, I will repeat definitely:)