Once upon a time, when I started my path as a web developer, I heard about various conferences such as HighLoad++, RITFest, Stachka, etc. I really wanted to get to these conferences just as a participant and my wish came true and I got to these first 3 conferences as a speaker right away. This time I will talk about my trip to the "Stachka" in Innopolis. This post is a trip story rather than a review of a specific conference.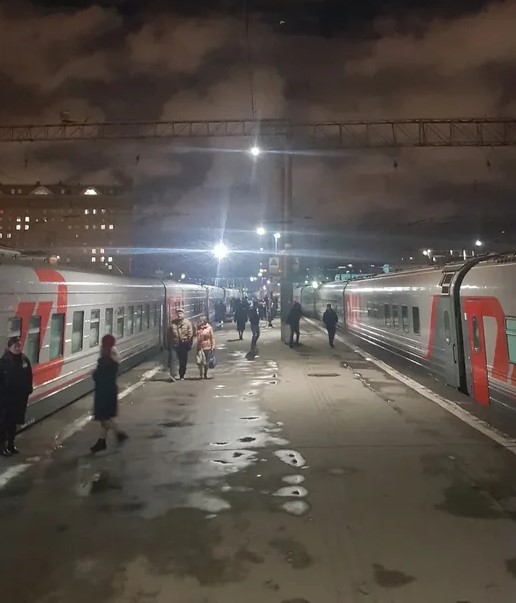 Starting my journey to Kazan, I was in anticipation of something large-scale. Chat of the Stachka's speakers totaled 200 people, which indicated the scale of the event! Moreover, the chat was truly lively - it was seen that the speakers were met from airplanes or trains and transported to hotels. Good coordinated work was visible!
Arriving at Kazan-2, volunteers kindly met me and put me in a taxi to Innopolis. The taxi driver himself did not know that there was such a city, but, fortunately, his phone built the right route:) The road to Innopolis took about 40 minutes.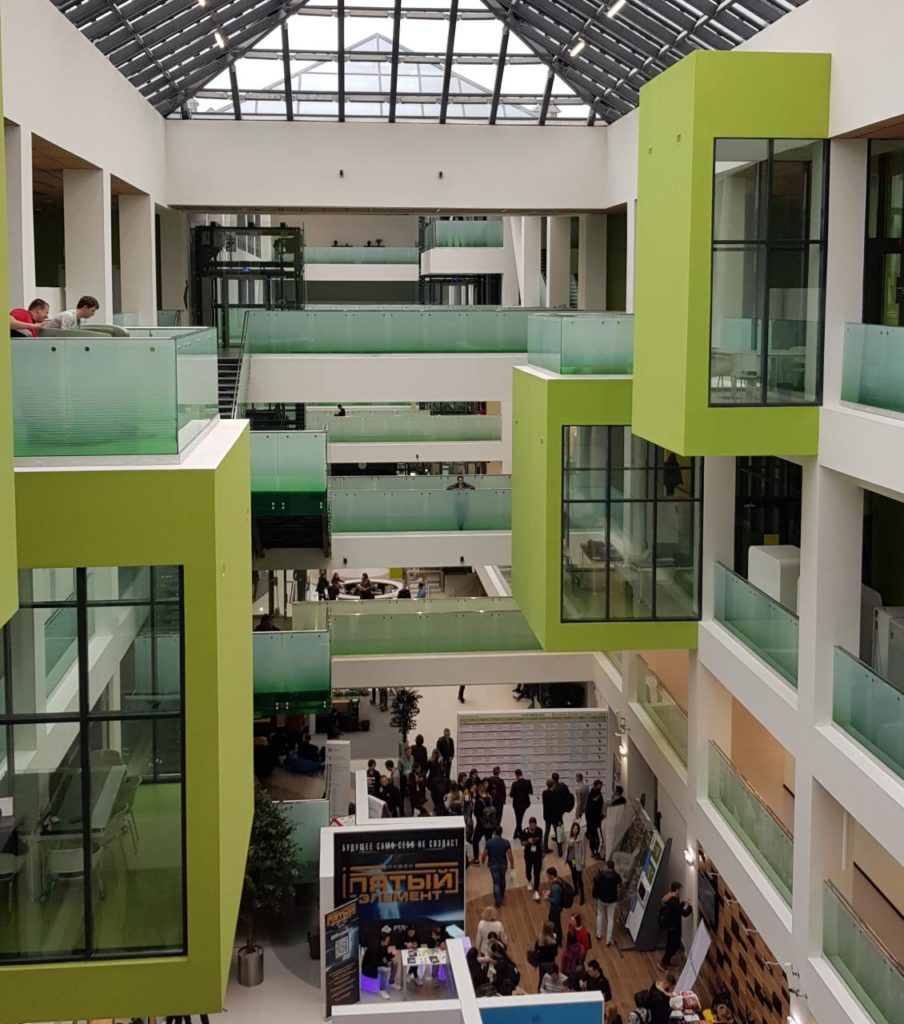 Having settled on the campus, first of all, I was glad for the local students because they have great living conditions. The Innopolis campus in the rooms has its own shower, toilet, kitchen with stove and refrigerator. The size of the room for two people is 2 times larger than a room in the MIPT dorm for four people.
On the way to the Stachka itself, I took a little walk and explored a part of the city. Everything is very new and outwardly attractive, which cannot but rejoice. Also, on the first day I talked a lot with local students and received only positive feedback about this place: you need to study seriously to stay here, and this at least somehow speaks of the level of education here. The studying itself is entirely in English - I even looked at a couple of definitions of discrete mathematics or mathematical analysis in English and realized that I would have had a hard time here.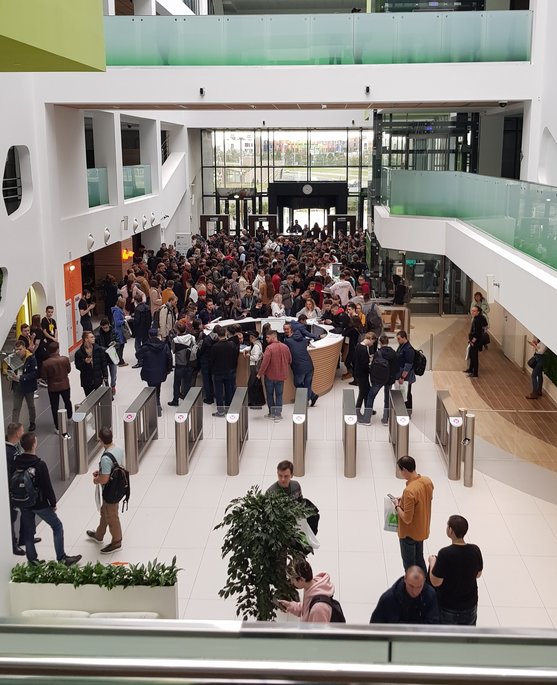 At the entrance to the university itself, the first thing I met was a crowd of people to register. I understand perfectly that registering several thousand people quickly and easily is almost impossible, but the traffic jam at the entrance was notable. It was good for the speakers that there was a separate small queue – there were "only" 200 speakers. There is a special admiration for the number of speakers — everyone needs to be met, settled in the hostel, made sure that they woke up and came to the hall. Phenomenally great work, especially with such number of speakers. Personally, I am very pleased with how volunteers and organizers dealt with me. Thank you so much for that!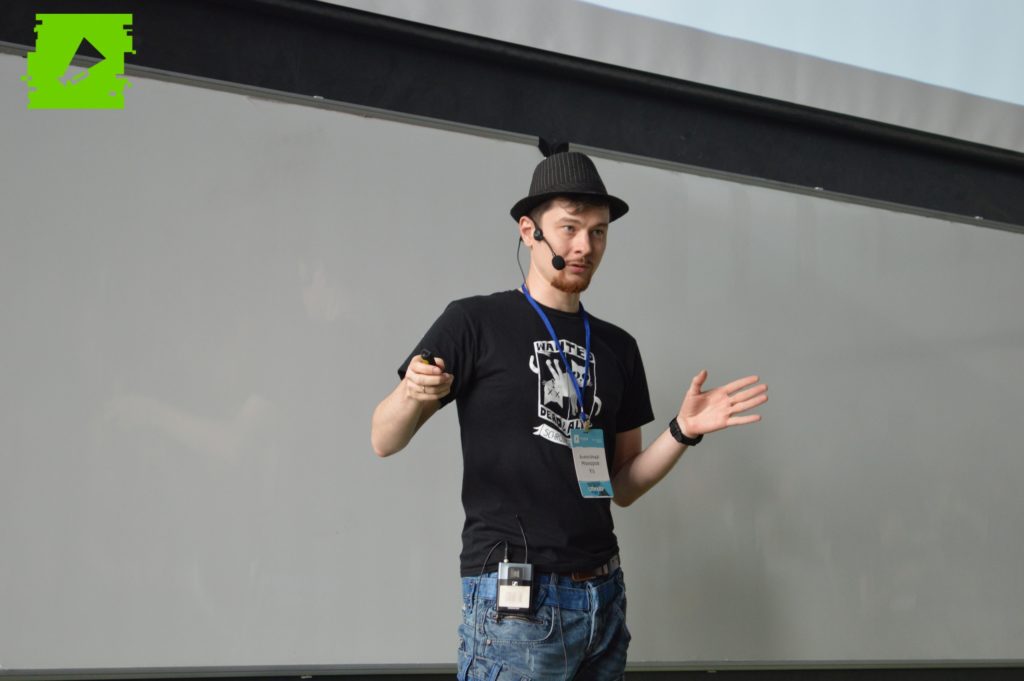 Traditionally had met with Sasha Makarov (http://twitter.com/sam_dark), we listened to a talk about remote work. After that we went to fill our stomachs with wonderful food. However, there was a line again, even despite the fact that there were 3 cafeterias, the line still was long.
After eating we went to the attraction, which I really wanted to see - an unmanned taxi. Touching this personally and taking a ride as a passenger, I realized that the future is very close. The car rides better than most drivers with whom I have driven. At the same time, right on the screen you can see how the car "thinking" and constantly builds possible routes to avoid obstacles. Also, all pedestrians are visible on the map, even behind glass crossings. It is very entertaining and interesting.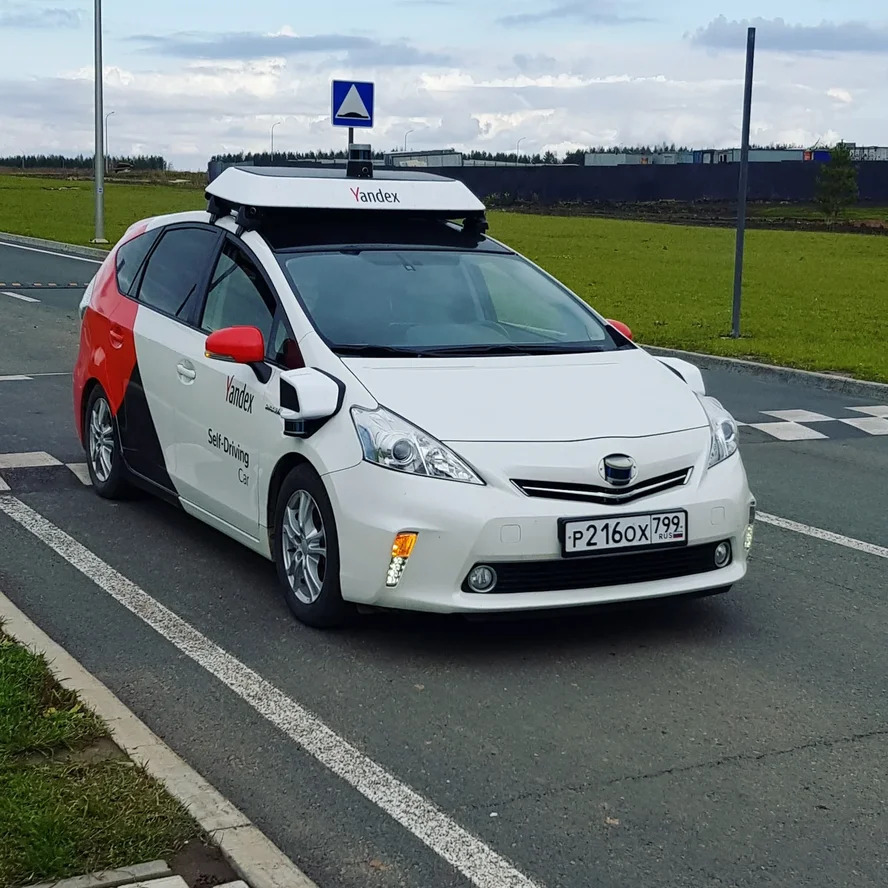 Taking pictures inside the car was forbidden, but it was possible outside. Therefore, I have only one photo before I got into it as a passenger. But from my own experience I say - it really goes by itself - turns the steering wheel, turns on turn signals and so on.
Unfortunately, Stachka did not organize a video recording of the reports, but I decided to take the initiative into my own hands and tried to make a simple recording of the reports interesting to me by myself. I began with a report by Sasha Makarov about the features of the development of Opensource. Unfortunately, at that time, I was not given direct access to the recording sound and I had to record sound from the phone. It's not very good, but you can make out what they say. The next report that I recorded was a report by Andrei Aksyonov (Sphinx developer) under the name "write carectly" ("пиши правельна"). That is, recommendations for how to write code correctly. The report was humorous and the speaker used profanity sometimes.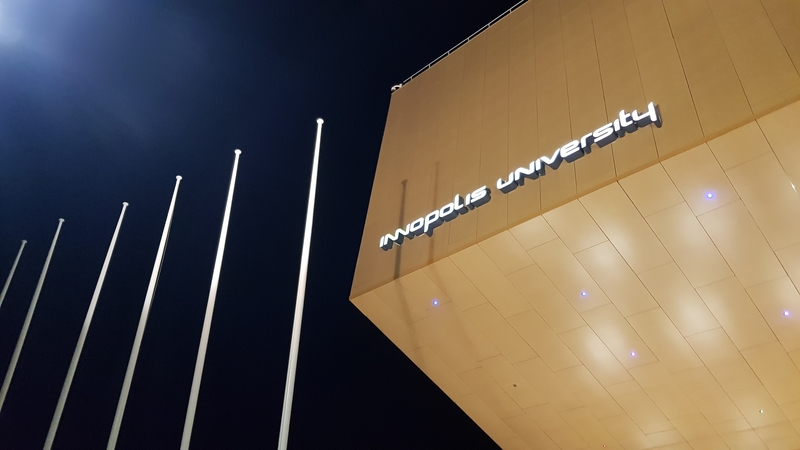 Andrey's report was the last one on the first day, and then I went to the race on scooters. I was very interested in the idea itself - a race on scooters and its implementation in the form of a track on the territory of university dorms. As a result, I took 4th place there and received a T-shirt as a prize 🙂
The organizers arranged afterparty on the first day of the conference and invited Nike Borzov to speak. As for the afterparty, I had only positive impressions. They say that there was not enough alcohol, but for me it was not a problem. After the concert, I went to my room to rehearse my report and supplement it, if necessary, with a couple of slides.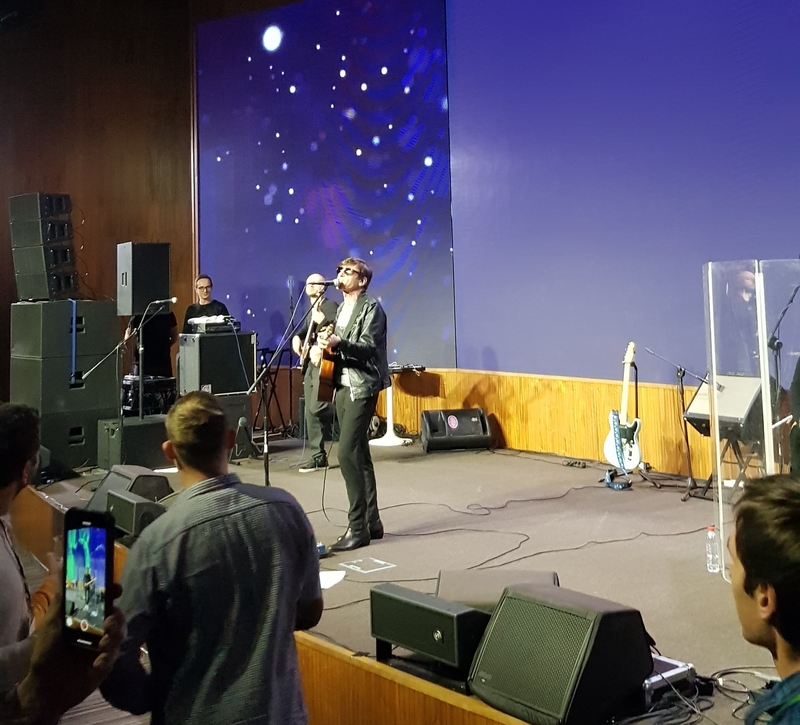 After I woke up and got dressed, I went to the university to listen to smart people and enjoy the atmosphere. Right before my talk was a very interesting talk by Alexey Milovidov (Clickhouse developer) about the development of data structures. After listening to him, I prepared everything for recording my report. Then it was my turn and I began my presentation.
If I give myself feedback on my report, then I would say that I read it again too quickly. So fast, that 90 slides were clicked in 30 minutes (on the run it took 50 minutes). Plus, the content turned out to be very fragmented. Let me remind you that I talked about the transition from PHP to GoLang in real projects. So – firstly, I started talking about the general differences of the concepts of the languages and the ways of working with them, then I plunged into the details of working with arrays and analysis of the technical features of a particular language… And then back again to the general details.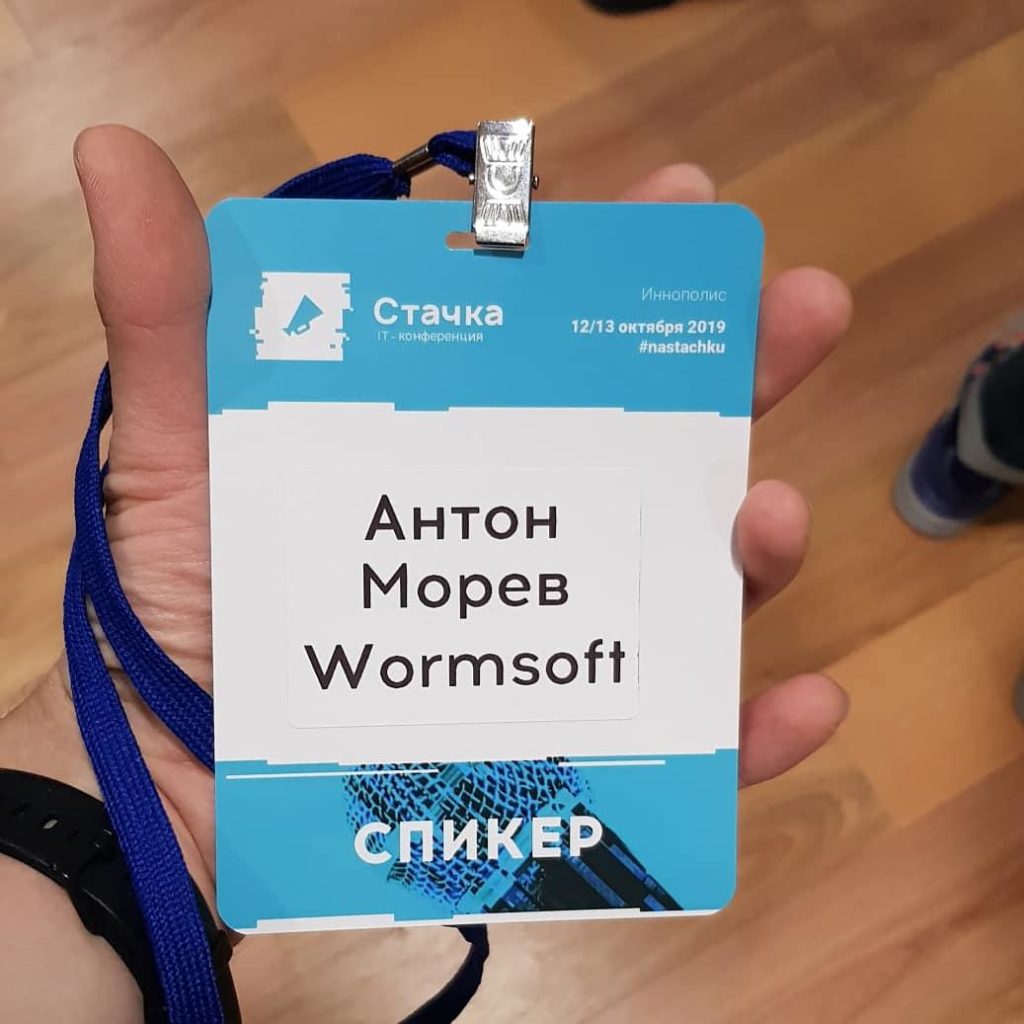 Moreover, these same "details" would become a separate report about "GoLang pitfalls for beginners," but, at the moment, there were not enough information for a whole report. Perhaps someday, I will gain strength and write an article on this subject on Habr. In the section of answers and questions, I screwed up and said that we use the Koa framework on GoLang when it is a JS framework. I even, for a second, was overcome by a feeling of shame due to the fact that I misspoke that way. But it happens to everyone 🙂
After completing the Q&A session, having talked with my listeners, I went to prepare for the trip back home, as the train was in 4 hours. Throughout our stay in the speaker room, volunteers accompanied us. I managed to talk a lot with one of them - Arina, a first-year student. Thanks to her, I learned a lot of interesting and fascinating things about studying at the university in Innopolis. This prompted me, in the foreseeable future, to write a separate post about this, because what I heard caused me admiration and surprise at the same time!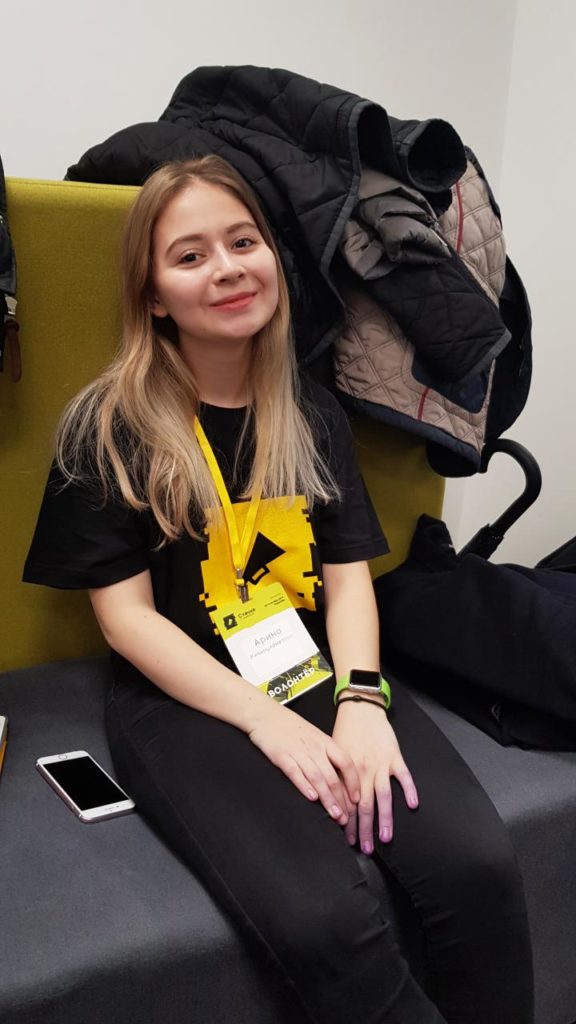 Get from Innopolis to Kazan, without traffic jams, a little less than an hour. Fortunately, a man appeared who was also driving in the direction of the center and they drove me to the main attraction of any city - to the metro) As far as I know, in Moscow redesign of signs and other things was carried out by Artemy Lebedev's studio. Having descended into the subway in Kazan, I realized that it would be nice if he gets there too. Of course, the complication manifests itself in the form of the need to provide information in three languages ​​at once - English, Russian and Tatar, but I am sure that something could have been invented for more obvious navigation for visitors. The main problem is that it is hard to understand which part of the pointer speaks of the left path, which of the right. But, again, I understand that this is a matter of habit.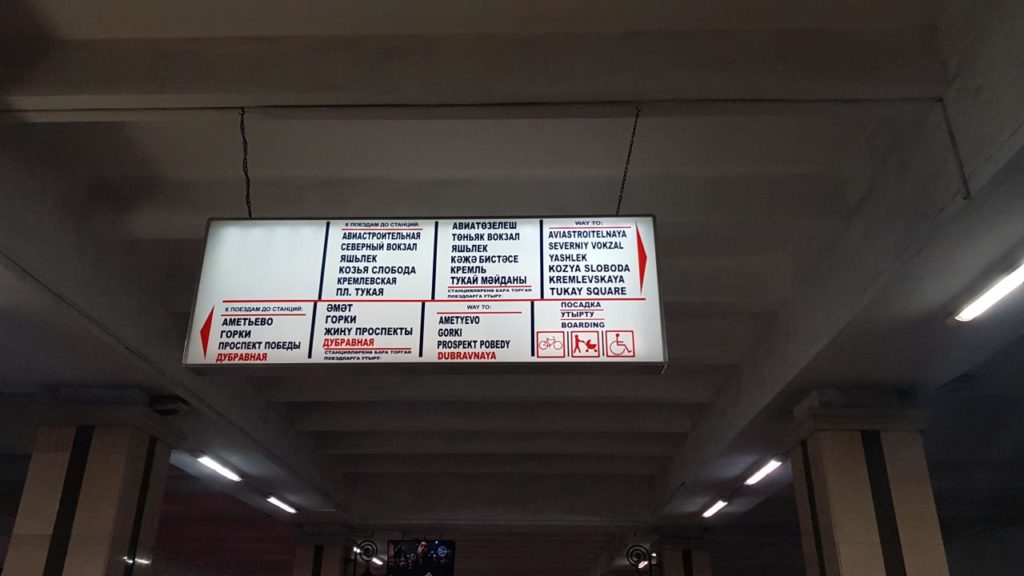 Having reached "Kremlyovskaya" station, I went outside. And then another surprise awaited me. I didn't have much time in reserve, and the metro, as it turned out, was dug far from the station itself - an amazing solution and, to put it mildly, not very convenient. I can imagine what would happen in Moscow if the closest metro station to the square of three stations would be Krasnoselskaya - after all, this is about the same distance you need to get over from the Kremlyovskaya station to the Kazan-1 station.
Having plunged into the train, I talked with travelers who were traveling with me from Moscow to Kazan and after that I fell asleep. At 7:10 a.m. I arrived at the Kazan station and went home.
At the end of the post, I would say a few words of gratitude to the organizers of the conference itself. The event is really large-scale and to cope with so many people is not an easy task. But, it seems to me that the organizers coped with this. And thank you very much for that! I am glad that I was part of the Stachka in Innopolis, and I am sure that I will be a member of the following conferences.
Pros that I noticed for myself on the trip:
Really good organization of the event
Interesting people
Cool program
Magnificent city
A stunning platform, or rather a university
A great opportunity to ride a taxi without a driver (for this special thanks)
Cool afterparty on Saturday
Great volunteer work
The desire to be submitted as a speaker to the Stachka again
Well, if we talk about the cons:
Queues on the first day as long as a whole life
Registration queues creating traffic jams on the entrance
Lack of centralized video recording