When I was at BIF2019, I decided to go to Alexander Makarov's blog to read the news and saw that on October 19 he would be speaking at the uic.dev conference in Izhevsk. I followed a link and, to my delight, discovered a free slot for the speaker there right after Sasha. Without thinking twice, I submitted my new report about the experience of developing PWA.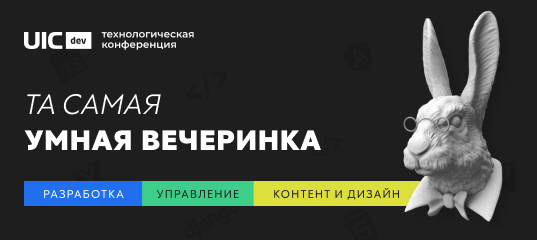 A week later, they informed me that my report was approved. It made me extremely happy 🙂 Before Izhevsk, I went to Stachka in Innopolis and speak there about the transition from PHP to GoLang. After the Stachka, I began to prepare really intensively for the report in Izhevsk - it was the effect of following the speeches for two days off in a row.
Road to Izhevsk
Since Izhevsk is in the zone of accessibility for the train (16 hours drive) and even two-story trains, which are new to me, go there, I went by train. There was wi-fi on this train, but the laws of the universe cannot be fooled. When there was no mobile network around, there was no wi-fi on the train. Therefore, until the end of the Moscow Region it was possible to work, and after that only Telegram prohibited by Federal Service for Supervision in the Sphere of Telecom, Information Technologies and Mass Communications worked 🙂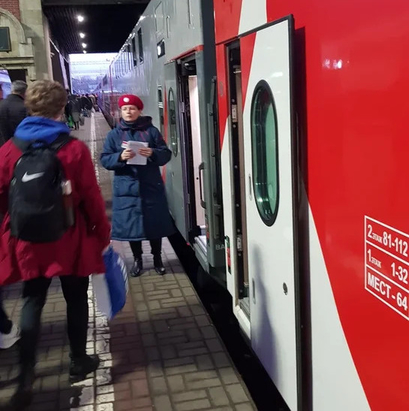 The weather in Izhevsk met me with cold when I arrived. When I left Moscow, the temperature outside was 15 degrees. In Izhevsk it was 0 degrees. Such a sharp contrast in the morning does not leave anyone indifferent. Thank God I had warm jacket, hat and gloves. Having warmed up, I got in a taxi and went to IzhHotel. It happened so that while I was in Izhevsk there was always cloudy weather. This did not add joy and the impression was that the city itself was very gloomy, although I understand that it is subjective.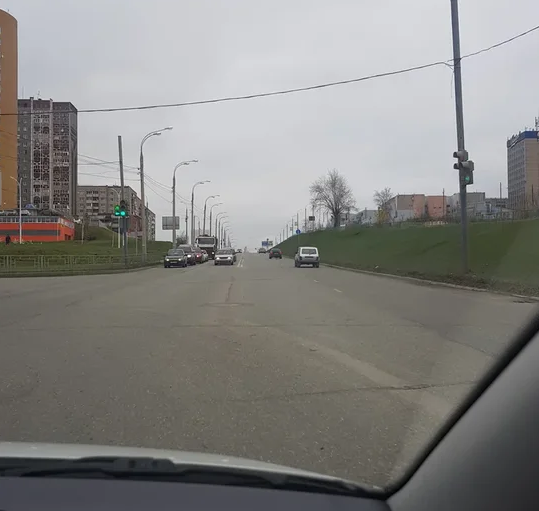 I am always interested in the transport issue in the cities I visit. Izhevsk is no exception. There is an airport in Izhevsk, but there are very few flights from there, and mainly to Moscow and St. Petersburg. Not far (190km) from Izhevsk there is Naberezhnye Chelny airport, from where there are already much more flights and therefore locals often fly from this airport and there is a way to get to the Chelny. This leads to the fact that when searching for flights from Izhevsk, for example, to Minsk, you can see 2 changes, where the first change is a bus from Izhevsk airport to Naberezhnye Chelny, and is indicated as "departure and arrival flight".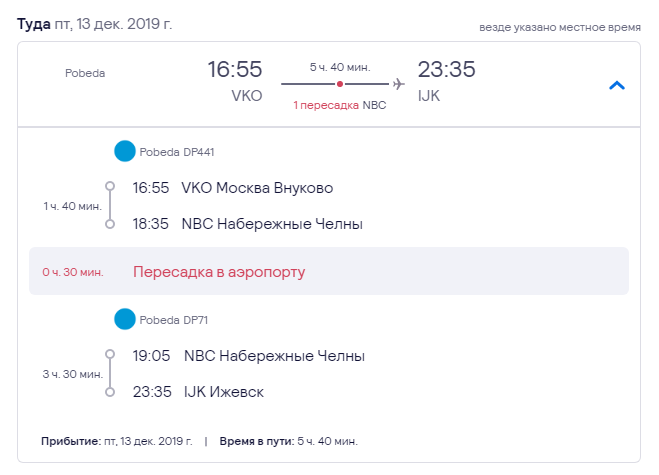 When I got to IzHotel, I quickly cleaned myself up and went to the conference room with another speaker, Vlad, who read about the hodgie code and how to live with it. The conference itself was held in a bar cluster and there was three rooms - a room for each section. I immediately went to the hall where I will perform and traditionally met Sasha Makarov there 🙂 It is already a habit to meet him in Novosibirsk, Belgorod, Innopolis and, now, in Izhevsk. And although it seems we agreed with him that this year our events will no longer overlap, but who knows)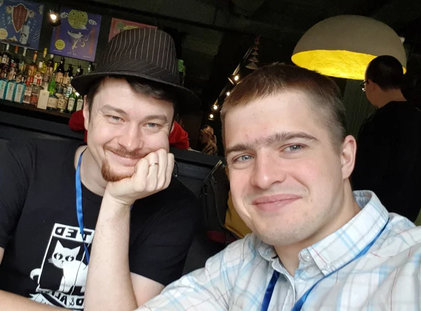 The conference itself
I came just in the middle of the report about what and how the open source lives, namely, Linux and other systems based on it. After listening to the report, we went to dinner 🙂 The food system at this conference was built as follows - everything went in the bar cluster and each participant and speaker was allocated a deposit of 1000 rubles, which we could spend on any product in several places inside this building. I am not a fan of Asian cuisine but this time I liked everything I ordered - and rolls and wok and another wok)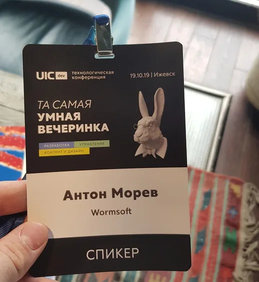 After lunch, Sasha spoke about package metrics (supplement of the report in Belgorod) and, right after him, it was time for my report. This time I talked about Progressive Web Applications (PWA). A little explanation - PWA is a technology that allows you to make a mobile application out of a web application with minimal cost and using only web technologies. We at wormsoft.ru are trying to actively use this technology and have already concluded that it replaces conventional applications in very rare cases. Actually, I talked about the features of working with PWA. And I can say that the report turned out to be quite successful - the questions were very interesting, and this is a good feedback.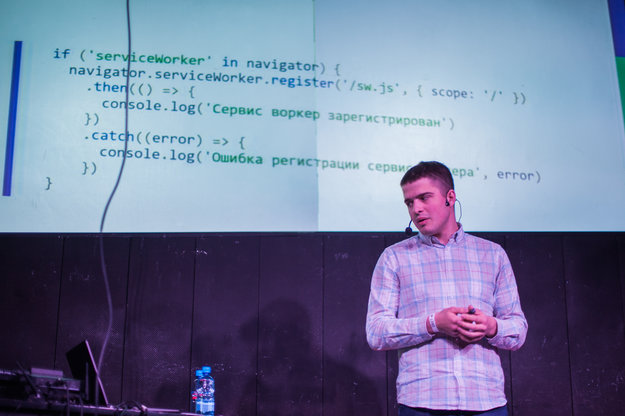 After speaking, I went to a talk about animations and asked the speaker urgent questions about a project with animations that we are currently working on for our client. Well, after this report there was one report for all sections - about supercomputers from the famous scientist Nikolai Nepeyvod. I understood little from this report, except that we are quite far behind other countries in the field of supercomputers. But I thought that php, js and golang are working on regular computers, so I'm not doomed 🙂
But right after the final report, everything went dark and began to get dark in my eyes - a lack of sleep over the past week affected. The organizers staged an intellectual quiz "What? Where? When?". In a spontaneous way, we formed a team and our team won in a 3-round competition of 8 questions in each round.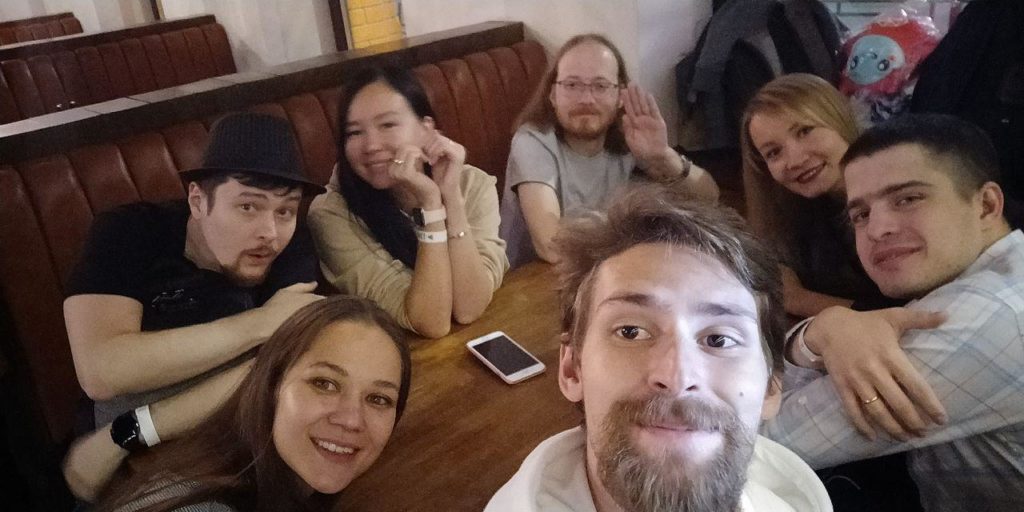 Honestly, I really overslept about 5-7 questions. I managed to quickly wake up after the photos in the photo booth and a dose of fresh air.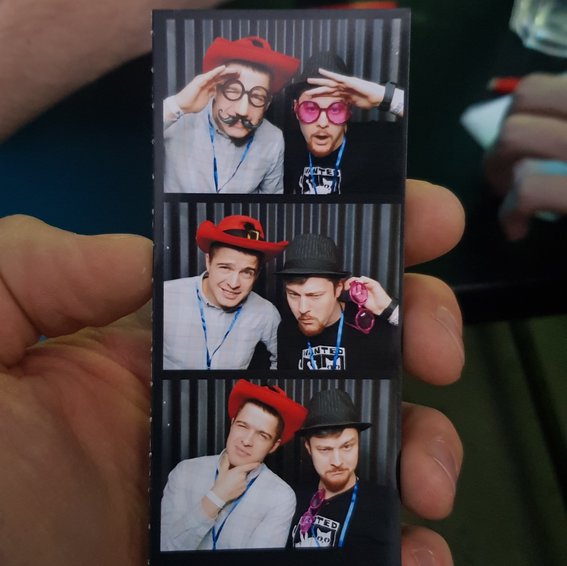 Our winning ensemble went to "Two meat grinders", where we got a spontaneous afterparty, where we managed to have a good time 🙂 We also had Grigory Kogan, the founder of picom. Picom organized the entire conference. And turning to feedback on the conference itself, I can say a big thank you to the organizers for the work done - the whole conference was held in such a homely atmosphere that it seemed that I had known all these people for a long time. Such a feeling at events is very valuable both for speakers and participants. Thanks:)
In summary
Things I liked:
Delicious food and a large selection of food. This is much more convenient than "take what they give and say thank you"
Very interesting reports that I managed to visit
Support for speakers at the high level
After the event, the organizers kindly sent me all the photos with me and a screenshot with feedback! It was infinitely convenient!
Things I didn't like:
The plave is not very suitable for a conference. Although the name "Smart Party" appeared everywhere, so this moment I can't really call a disadvantage
On the screen in my room, half of the presentation went beyond the screen and was not visible